This has been a somewhat ongoing story, but there are a few aspects of the
judge's opinion (PDF)
that I would wish to reiterate:
For background on the original, go
here
. (or
Google
, there's plenty on the story..)
The
latest uproar
seems to be something along these lines:
The American Civil Liberties Union successfully sued the district on behalf of a girl who protested against the principal, David Davis, and a federal judge reprimanded Davis for conducting a "witch hunt" against gays. Davis was demoted, and school employees must now go through sensitivity training.

And despite all that, many in this conservative Panhandle community still wonder

what, exactly, Davis did wrong

.

"We are a small, rural district in the Bible Belt with strong Christian beliefs and feel like homosexuality is wrong," said Steve Griffin, Holmes County's superintendent of schools, who keeps a Bible on his desk and framed Scriptures on his office walls.

Holmes County, on the Georgia line, has about 20,000 residents. There is some agriculture, but most people are employed either by prisons or schools; some commute to the Gulf Coast to work in tourism. Ponce de Leon has fewer than 500 residents.
So basically, some of the residents don't see how or why gay-bashing gay students, and their supporters, could possibly be wrong bad and evil.
At this point, I think it's important to repeat a portion of the judge's opinion on an aspect of Davis' testimony (the principal in question): From
Page 31 of the judges opinion

(PDF)
:
Davis testified

that merely wearing a t-shirt expressing support for homosexuals or displaying a rainbow-colored sticker amounts to "imposing" a certain view on others who find that view offensive. Davis stated that such speech should not be imposed on children "[j]ust as I would not want religious ideas being imposed upon children who don't want to hear them." (Tr., Doc. 76:109, lines 6-8.) However, Davis fails to realize the hypocrisy in his own behavior. It was not the students who imposed their views about homosexuality on Davis or other students;rather, it was Davis who silenced and suspended students for expressing their views.
And finally, WHAT IT ALL COMES DOWN TO:
David Davis: Although the School Board conceded in its answers to interrogatories and at trial that the messages and symbols at issue are not vulgar, lewd, obscene, plainly offensive, or sexually suggestive,

Davis attempted to justify the ban on speech, in part, by contending that rainbow stickers […] are sexually suggestive and immediately conjure images in children's minds of people engaging in sexual acts.




Warning: "sexually suggestive" colors below: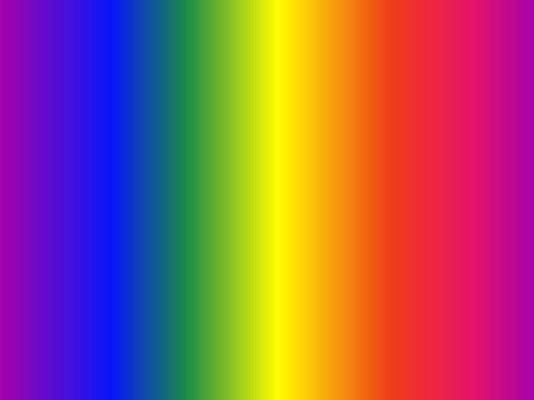 Just out of curiosity Mr. David Davis, and given that you've already provided the circumstantial context, would you say that a rainbow in the sky was God's way to conjure up (within children) images of sex between adults, or images of sex between adults and children?