Sally Kern

Oklahoma State Representative
"In my Bible, that has, the God of love, on every page, who said, homosexuality is a sin, it is an abomination..."
"I honestly think it's the biggest threat even, that our nation has, even more so than terrorism or Islam, which I think is a big threat, okay."
Matt Barber:
Sally, let me ask you this, do you hate homosexuals?
Sally Kern:
No sir, I do not, I don't hate anyone. As you know, God is God of love, and as a Christian, with His spirit within me, I am to, exemplify the character of Christ, by the Holy Spirit within me, and one the fruit of the Spirit is not hate, it's love.
~~~
Iris Robinson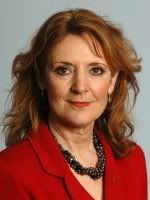 Member of the British Parliament (MP)
"What I say I base on biblical pronouncements, based on God's word...I cannot think of anything more sickening than a child being abused. It is comparable to the act of homosexuality. I think they are all comparable. I feel totally repulsed by both."
"I have nothing against any homosexual. I love them..."
~~~
Mohsen Yahyavi
Iranian Politician
"Homosexuals deserve to be executed or tortured and possibly both..."
~~~
Iran
"loves"
homosexuals too, just like the Bible says to...
Leviticus 20:13
: If a man lies with a man as one lies with a woman...
They must be put to death: